In my previous post on The Holiday, we saw how to get the look of Kate Winslet's picture book English country cottage. Now, we take a look at the impressive LA home of Cameron Diaz's character, Amanda, a very successful movie trailer producer. Nancy Meyers and Jon Hutman created an interior filled with fairly traditional furnishings in a simple white, gray and black color palette, creating an air of contemporary elegance. The exterior house, set in Brentwood in the movie, was actually the home of famous California architect Wallace Neff, which he designed for himself in 1928. It's located in San Marino, a suburb of Pasadena. The interiors were created on a sound stage. Interestingly, the online "chat" about this stage set calls it contemporary, but I think it's really more an updated traditional look (and not unlike their set for Diane Keaton's home in "Something's Gotta Give"). Most of the furniture is pretty classic looking, covered in simple cotton slip covers. Several of the chairs, sofas and even the bed have "wings", creating a soft, comfortable look. I do have to say, I've never seen so much seating in an actual interior. The kitchen looks like it could seat 12-14 people - between the table, the counter seating and some upholstered pieces. The living room has a day bed/chaise, sofa and several arm chairs.

So, are you looking to get this look? Here are a few items to get you started.


Mt. Vernon
Large Hanging Lantern
Anquilla Pendant
from Pottery Barn

Hudson Parsons bar stool
at Restoration Hardware
Sheridan slipcovered Parsons Chairs
at Restoration Hardware

Camden Round
dining table at Restoration Hardware

Bedford sofa
at Williams Sonoma

Solar shades
at Smith+Noble
Twist candlestick lamp
at Shades of Light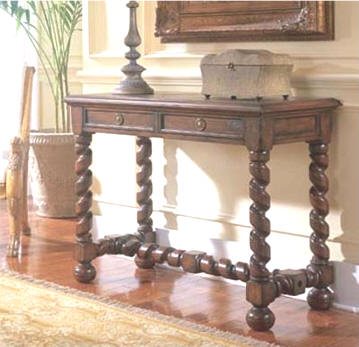 Corkscrew leg console
table at 1-World Decor
Cubic Console table
at Design Within Reach (by front door in set)
The Living Room
Walker Chair
at Mitchell Gold
Nexus storage cube
at Design Within Reach
Glass table lamp
at Shades of Light
Jonathan Adler
Bel Air table lamp
Abaca Sisal
plait rug at Shades of Light
Lucas coffee table
from Pottery Barn
Peyton Drape
at Pottery Barn
Eames Walnut Stool
(two used as coffee table)
Royalton Upholstered Bed
at Restoration Hardware
Westport Bed
at Williams Sonoma
Tau night table
at 2modern.com
So, what do you think - is this a fresh contemporary interior space, or an updated traditional one?



Recommended: